"In my mind, a beach read is something that's "unputdownable," whatever that means to you," says Susan Kehoe, managing partner of Browseabout Books.
When the New York Times asked booksellers all over the nation what beach reads they recommended, they suggested these 10 books:
Publisher's description:
Mark Helprin's powerful, rapturous new novel is set in a present-day Paris caught between violent unrest and its well-known, inescapable glories.
Seventy-four-year-old Jules Lacour—a maître at Paris-Sorbonne, cellist, widower, veteran of the war in Algeria, and child of the Holocaust—must find a balance between his strong obligations to the past and the attractions and beauties of life and love in the present.
In the midst of what should be an effulgent time of life—days bright with music, family, rowing on the Seine—Jules is confronted headlong and all at once by a series of challenges to his principles, livelihood, and home, forcing him to grapple with his complex past and find a way forward. He risks fraud to save his terminally ill infant grandson, matches wits with a renegade insurance investigator, is drawn into an act of savage violence, and falls deeply, excitingly in love with a young cellist a third his age. Against the backdrop of an exquisite and knowing vision of Paris and the way it can uniquely shape a life, he forges a denouement that is staggering in its humanity, elegance, and truth.
In the intoxicating beauty of its prose and emotional amplitude of its storytelling, Mark Helprin's Paris in the Present Tense is a soaring achievement, a deep, dizzying look at a life through the purifying lenses of art and memory.
Publisher's description:
Part coming-of-age story, part mystery, The Trouble with Goats and Sheep is a quirky and utterly charming debut about a community in need of absolution and two girls learning what it means to belong.
England, 1976. Mrs. Creasy is missing and the Avenue is alive with whispers. The neighbors blame her sudden disappearance on the heat wave, but ten-year-olds Grace and Tilly aren't convinced. As the summer shimmers endlessly on, the girls decide to take matters into their own hands. Inspired by the local vicar, they go looking for God—they believe that if they find Him they might also find Mrs. Creasy and bring her home.
Spunky, spirited Grace and quiet, thoughtful Tilly go door to door in search of clues. The cul-de-sac starts to give up its secrets, and the amateur detectives uncover much more than ever imagined. As they try to make sense of what they've seen and heard, a complicated history of deception begins to emerge. Everyone on the Avenue has something to hide, a reason for not fitting in.
In the suffocating heat of the summer, the ability to guard these differences becomes impossible. Along with the parched lawns and the melting pavement, the lives of all the neighbors begin to unravel. What the girls don't realize is that the lies told to conceal what happened one fateful day about a decade ago are the same ones Mrs. Creasy was beginning to peel back just before she disappeared.
Publisher's description:
A moving story of love, friendship, grief, healing, and the magical bond between a woman and her dog.
When a woman unexpectedly loses her lifelong best friend and mentor, she finds herself burdened with the unwanted dog he has left behind. Her own battle against grief is intensified by the mute suffering of the dog, a huge Great Dane traumatized by the inexplicable disappearance of its master, and by the threat of eviction: dogs are prohibited in her apartment building.
While others worry that grief has made her a victim of magical thinking, the woman refuses to be separated from the dog except for brief periods of time. Isolated from the rest of the world, increasingly obsessed with the dog's care, determined to read its mind and fathom its heart, she comes dangerously close to unraveling. But while troubles abound, rich and surprising rewards lie in store for both of them.
Elegiac and searching, The Friend is both a meditation on loss and a celebration of human-canine devotion.
Publisher's description:
At school Connell and Marianne pretend not to know each other. He's popular and well-adjusted, star of the school soccer team while she is lonely, proud, and intensely private. But when Connell comes to pick his mother up from her housekeeping job at Marianne's house, a strange and indelible connection grows between the two teenagers—one they are determined to conceal.
A year later, they're both studying at Trinity College in Dublin. Marianne has found her feet in a new social world while Connell hangs at the sidelines, shy and uncertain. Throughout their years in college, Marianne and Connell circle one another, straying toward other people and possibilities but always magnetically, irresistibly drawn back together. Then, as she veers into self-destruction and he begins to search for meaning elsewhere, each must confront how far they are willing to go to save the other.
Sally Rooney brings her brilliant psychological acuity and perfectly spare prose to a story that explores the subtleties of class, the electricity of first love, and the complex entanglements of family and friendship.
Publisher's description:
For years, rumors of the "Marsh Girl" have haunted Barkley Cove, a quiet town on the North Carolina coast. So in late 1969, when handsome Chase Andrews is found dead, the locals immediately suspect Kya Clark, the so-called Marsh Girl. But Kya is not what they say. Sensitive and intelligent, she has survived for years alone in the marsh that she calls home, finding friends in the gulls and lessons in the sand. Then the time comes when she yearns to be touched and loved. When two young men from town become intrigued by her wild beauty, Kya opens herself to a new life–until the unthinkable happens.
Perfect for fans of Barbara Kingsolver and Karen Russell, Where the Crawdads Sing is at once an exquisite ode to the natural world, a heartbreaking coming-of-age story, and a surprising tale of possible murder. Owens reminds us that we are forever shaped by the children we once were, and that we are all subject to the beautiful and violent secrets that nature keeps.
Publisher's description:
Abdi Nor Iftin first fell in love with America from afar. As a child, he learned English by listening to American pop artists like Michael Jackson and watching films starring action heroes like Arnold Schwarzenegger. When U.S. marines landed in Mogadishu to take on the warlords, Abdi cheered the arrival of these real Americans, who seemed as heroic as those of the movies.
Sporting American clothes and dance moves, he became known around Mogadishu as Abdi American, but when the radical Islamist group al-Shabaab rose to power in 2006, it suddenly became dangerous to celebrate Western culture. Desperate to make a living, Abdi used his language skills to post secret dispatches to NPR and the Internet, which found an audience of worldwide listeners. But as life in Somalia grew more dangerous, Abdi was left with no choice but to flee to Kenya as a refugee.
In an amazing stroke of luck, Abdi won entrance to the U.S. in the annual visa lottery, though his route to America–filled with twists and turns and a harrowing sequence of events that nearly stranded him in Nairobi–did not come easily. Parts of his story were first heard on the BBC World Service and This American Life. Now a proud resident of Maine, on the path to citizenship, Abdi Nor Iftin's dramatic, deeply stirring memoir is truly a story for our time: a vivid reminder of why western democracies still beckon to those looking to make a better life.
Publisher's description:
Richard Grant and his girlfriend were living in a shoebox apartment in New York City when they decided on a whim to buy an old plantation house in the Mississippi Delta. Dispatches from Pluto is their journey of discovery into this strange and wonderful American place. Imagine A Year In Provence with alligators and assassins, or Midnight in the Garden of Good and Evilwith hunting scenes and swamp-to-table dining.
On a remote, isolated strip of land, three miles beyond the tiny community of Pluto, Richard and his girlfriend, Mariah, embark on a new life. They learn to hunt, grow their own food, and fend off alligators, snakes, and varmints galore. They befriend an array of unforgettable local characters—blues legend T-Model Ford, cookbook maven Martha Foose, catfish farmers, eccentric millionaires, and the actor Morgan Freeman. Grant brings an adept, empathetic eye to the fascinating people he meets, capturing the rich, extraordinary culture of the Delta, while tracking its utterly bizarre and criminal extremes. Reporting from all angles as only an outsider can, Grant also delves deeply into the Delta's lingering racial tensions. He finds that de facto segregation continues. Yet even as he observes major structural problems, he encounters many close, loving, and interdependent relationships between black and white families—and good reasons for hope.
Dispatches from Pluto is a book as unique as the Delta itself. It's lively, entertaining, and funny, containing a travel writer's flair for in-depth reporting alongside insightful reflections on poverty, community, and race. It's also a love story, as the nomadic Grant learns to settle down. He falls not just for his girlfriend but for the beguiling place they now call home. Mississippi, Grant concludes, is the best-kept secret in America.
Publisher's description:
From the New York Times bestselling author of Rules of Civility–a transporting novel about a man who is ordered to spend the rest of his life inside a luxury hotel.
In 1922, Count Alexander Rostov is deemed an unrepentant aristocrat by a Bolshevik tribunal, and is sentenced to house arrest in the Metropol, a grand hotel across the street from the Kremlin. Rostov, an indomitable man of erudition and wit, has never worked a day in his life, and must now live in an attic room while some of the most tumultuous decades in Russian history are unfolding outside the hotel's doors. Unexpectedly, his reduced circumstances provide him entry into a much larger world of emotional discovery.
Brimming with humor, a glittering cast of characters, and one beautifully rendered scene after another, this singular novel casts a spell as it relates the count's endeavor to gain a deeper understanding of what it means to be a man of purpose.
Publisher's description:
It's 1917, and World War I is at its zenith when Hazel and James first catch sight of each other at a London party. She's a shy and talented pianist; he's a newly minted soldier with dreams of becoming an architect. When they fall in love, it's immediate and deep—and cut short when James is shipped off to the killing fields.
Aubrey Edwards is also headed toward the trenches. A gifted musician who's played Carnegie Hall, he's a member of the 15th New York Infantry, an all-African-American regiment being sent to Europe to help end the Great War. Love is the last thing on his mind. But that's before he meets Colette Fournier, a Belgian chanteuse who's already survived unspeakable tragedy at the hands of the Germans.
Thirty years after these four lovers' fates collide, the Greek goddess Aphrodite tells their stories to her husband, Hephaestus, and her lover, Ares, in a luxe Manhattan hotel room at the height of World War II. She seeks to answer the age-old question: Why are Love and War eternally drawn to one another? But her quest for a conclusion that will satisfy her jealous husband uncovers a multi-threaded tale of prejudice, trauma, and music and reveals that War is no match for the power of Love.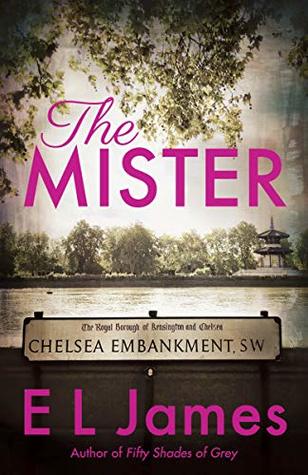 (From the author of The Fifty Shades Trilogy. It's your vacation; no judgment.)
Publisher's description:
London, 2019. Life has been easy for Maxim Trevelyan. With his good looks, aristocratic connections, and money, he's never had to work and he's rarely slept alone. But all that changes when tragedy strikes and Maxim inherits his family's noble title, wealth, and estates, and all the responsibility that entails. It's a role he's not prepared for and one that he struggles to face.
But his biggest challenge is fighting his desire for an unexpected, enigmatic young woman who's recently arrived in England, possessing little more than a dangerous and troublesome past.  Reticent, beautiful, and musically gifted, she's an alluring mystery, and Maxim's longing for her deepens into a passion that he's never experienced and dares not name. Just who is Alessia Demachi? Can Maxim protect her from the malevolence that threatens her? And what will she do when she learns that he's been hiding secrets of his own?
From the heart of London through wild, rural Cornwall to the bleak, forbidding beauty of the Balkans, The Mister is a roller-coaster ride of danger and desire that leaves the reader breathless to the very last page.
---
Small print: I'm a writer who connects writers with books, programs, and writer toys that make the writing life easier or more fun. As it turns out, people get paid for that. So some of the links I have are affiliate links, which means that, at no cost to you, I get a commission if you click through and buy something. If I recommend something you don't agree with, just let me know. I stand by everything I suggest as a resource that will help you be the writer you want to be.